Colorado Fish Report
DECOYS STOLEN BEFORE YOUTH SEMINAR; COLORADO PARKS & WILDLIFE ASKS PUBLIC FOR HELP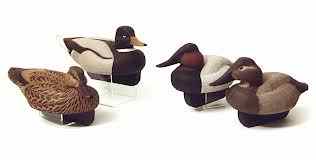 by Colorado Parks & Wildlife
11-26-2013
303-866-3437
Website

DELTA, Colo. - Colorado Parks and Wildlife is seeking information about the theft of waterfowl decoys and hunting blinds from the Escalante State Wildlife Area near Delta on Saturday, Nov. 23. The wildlife area is located west of Delta.

According to wildlife officials, the decoys and blinds had been set up for a waterfowl hunting seminar which was to be held that afternoon. Colorado Parks and Wildlife had partnered with Ducks Unlimited members to teach kids and novices how to hunt ducks and geese.

A white full-size pick-up truck was seen in the area of the theft at approximately 12:30 p.m. on that day. The truck had the word "Yenter" written in black letters diagonally down the door. The truck was occupied by at least two men and one dark-colored dog.

Approximately 60 duck and goose decoys had been set up on the ponds of the Escalante State Wildlife Area that morning in preparation for the seminar. Also stolen were three hunting blinds: an Avery pop-up blind, a Ground Force dog blind and a goose shell pop-up blind. Many of the items stolen were the personal hunting equipment of a Ducks Unlimited member who was volunteering to teach the seminar.

"The theft was really disappointing because it had a negative effect on the hunting seminar," said Garett Watson, a district wildlife manager in Montrose. "Participants of the seminar were really disappointed to think that another sportsman was possibly responsible for the theft. We had to scramble and borrow some decoys to use that day."
Colorado Parks and Wildlife urges the public to provide any information that may lead to the person or persons responsible. Anyone with information that can help in this investigation can call the Montrose Parks and Wildlife office at 970-252-6000, or contact Operation Game Thief, a wildlife tips hotline at 877-265-6648. Callers can remain anonymous and cash rewards may be given if the information leads to a conviction.

For more information about Operation Game Thief, go to: www.wildlife.state.co.us/RulesRegs/LawEnforcement/OperationGameThief/Pages/OGT.aspx.