Colorado Fish Report
Product Review: Eagle Claw Inline Reel and St. Croix Legend Ice Rod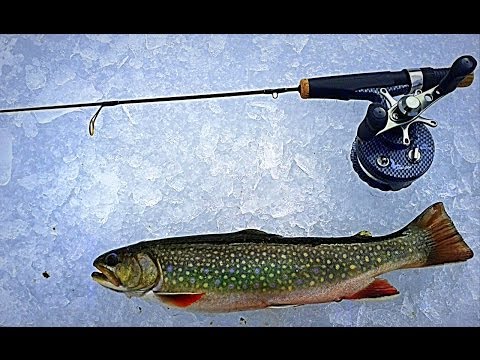 by Born to Fish Media
12-13-2013
Website

by Mitch Bradshaw

Eagle Claw introduced the Inline reel last season and there was a lot of buzz and positive feedback over them. They are flying off the shelves again this year and being put onto anglers ice fishing rods. The Inline reel is made up of a durable nylon body and graphite spool.

The buzz around inline reels are that they ensure reduced line twist which is a common problem with a spinning reel and light lures, but that is only one benefit you can expect this reel to provide. The Eagle Claw inline reel has a free spool feature that completely eliminates any drag on the spool; this allows you to easily drop the lightest jigs, down to 1/64th of an ounce, with ease. The Inline reel also allows you to adjust the free spool tension, keeping the line feeding smoothly off the reel at a consistent rate of speed, no matter what size lure you are using. A strong drag makes these reels perfect for ice fishing and open water jigging applications. The inline reel also has an audible line clicker which can be very helpful when trolling in open water.

Some other specifications worth mentioning are that it has 5 ball bearings, a 2.6:1 gear ratio which picks up almost 16 inches of line per crank - this is a big selling point as other inline and fly reels on the market have a 1:1 gear ratio. These reels come stock as a left hand retrieve but there are various sites that list the steps necessary for flipping them to right hand retrieve. These reels weigh in at 5.36 ounces. The Inline Reel can hold 270 yards of 1 pound line, 110 yards of 2 pound line, and 45 yards of 4 pound line. These reels can be had for between $20 and $30.

I paired my Inline Reel with a St. Croix Legend Ice rod and I think it's a perfect match! I love the finesse spring bobber on this rod and combine that with sensitive carbon blank and lightweight stainless steel guides and you have yourself a rod that will detect the lightest of bites.

The spring bobber or strike indicator on this rod is built from stainless steel and is fully adjustable for sensitivity and different jig sizes. St. Croix makes 4 different models of spring bobbers: Light, Medium, Medium Heavy, and Heavy so you can match them according to the size and weight of the lure you're using.

I like using the 30 inch Light action model. It handles the trout up to 15 inches with ease. This Light action model has a pretty soft tip that transitions nicely into the backbone of the rod making it a great panfish and trout rod. I also have the 30 inch Medium model which has more backbone and can handle much larger fish. For 2014 St. Croix has released the Legend Gold which has a revamped handle, a new blank, and gold plating so this rod is now known as the Legend Silver.

Well I hope this short review has been helpful for you and I would highly recommend this setup to any angler who wants to catch more fish on those tight lipped and light biting days!