Colorado Fish Report
CABELA'S SPONSORS ICE FISHING TOURNAMENT AT ELEVEN MILE STATE PARK COLORADO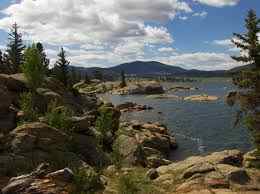 by Colorado Parks & Wildlife
12-15-2013
303-866-3437
Website

LAKE GEORGE, Colo. - Eleven Mile State Park and the 11 Mile Marina are proud to announce that Cabela's will be the new presenting sponsor for the 2014 Colorado Classic Ice Fishing Tournament, a series of three contests at the Park.
The winter ice fishing season will kick off with the Grand Slam tournament on January 11, awarding cash and prizes for trout, northern pike and kokanee salmon. The South Park Ice Masters trout-only contest will be held February 8, followed by the Marina March Madness tournament on March 8 for trout, northern pike and kokanee salmon. All three contests are team events, with a team consisting of two anglers, one of which must be at least 18-years old. Participants may enter one, two or all three events. Those entering all three are eligible to win the Cabela's Colorado Classic Trophy and bonus cash. The Tournament is known region-wide for its huge cash awards and great prizes. With additional participating sponsors including Berkley, Shakespeare, Eagle Claw and many more, the prizes just keep getting better each year.
"We want everyone to know that we will continue to protect the integrity of our Tournament for all contestants and sponsors, and will vigorously investigate any improprieties," said Tournament Director Larry Falk. "Fortunately our tournaments have run without a hitch for years as participants followed the honor system during these tournaments."
Ford Williams of Silverthorne who has been in the Tournament for the last 10 years commented, "I enter almost all the ice fishing contests throughout the state, and by far the 11 Mile Marina runs the most professional and organized event, and no contest gives away as much money as the Classic".
To kick off the season, Cabela's store in Lone Tree will be hosting a Winter Colorado Classic celebration on December 14 and 15. Tournament Director Larry Falk will be on hand to make a presentation about the contests and ice fishing opportunities at Eleven Mile State Park.
Anglers should remember that a valid daily or annual Colorado State Park pass is required for all vehicles entering the park. A valid Colorado fishing license is also required for all Tournament participants.
Park officials remind ice fishermen that ice thicknesses may vary considerably within relatively short walking distances. Anyone venturing out onto the ice should always go with a partner, drill test holes to determine ice thickness, wear a life jacket and carry ice picks, 50 feet of rope and a cell phone. Park rangers also recommend that anglers stay away from pressure ridges, open water and ice that is porous, soft or has granulated crystals.
For more information on the tournament and entry forms, please visit
Tournament Information & Entry Forms
or call 719-748-0317. For Eleven Mile State Park information, please call the office at 719-748-3401 or visit
Eleven Mile State Park Information
.